Surely you have tasted the famous Pedro Ximénez fortified wines,  but… What do you know about this grape? Do you know other styles of wine made with it? Let's start at the beginning. 
A little bit of History
The origin of this white grape has generated controversy for decades and although it was speculated that its origin was the Rhine Valley from where a cardinal or a Third of Flanders had brought it to Spain, today it is known, thanks to DNA analysis,, that the  Pedro Ximénez is a descendant of the Arab table grape, Gibi, so it is more than likely that it was introduced into the country during the  period of Arab rule of Al-Andalus.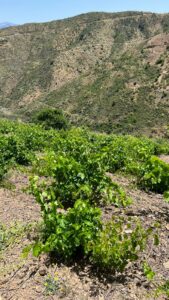 Grapes
Although they have been common vineyards in the east and south of Spain, nowadays they can also be found in other regions, mainly in dry and hot climates, since Pedro Ximénez is delicate and tends to suffer from fungal attacks, such as mildew, which easily spoil it in areas of high humidity.
Round in appearance, with a very fine and delicate yellow-greenish skin, its flesh has little pigmentation, a circumstance that surprises visitors to the Pedro Ximénez vineyards who see it for the first time, as they associate it with the dark color of the fortified wines made from it.
The wines
As for the wines made with this variety, we all know the fortified Pedro Ximenez wines. These are dark mahogany-colored wines with intense raisin aromas and a creamy, sweet mouthfeel, obtained thanks to the large quantities of sugars concentrated in the grapes harvested at the beginning, or even, at the end of raisining process, which guarantees a high natural alcohol content without the need to add 'extra' alcohol as is necessary in other fortified wines.
These are sweet wines, usually with aromas and flavors of raisins, dates and dried figs, often combined with spicy notes and chocolate.
But there is life beyond this style of winemaking, as is the case of our Sequential wine, since the Pedro Ximénez is a versatile grape, which also allows the production of dry wines, both table wines, as well as Finos, Amontillados, Olorosos…
In the dry mono–varietal wines made with this variety, the aromas of white fruits are usually predominant and in the mouth they do not usually present a high acidity, presenting a good volume.
However, Pedro Ximénez can also be found in dry wines made from carefully blended wines.
Wines like our Secuencial, a blend made with 60% Moscatel from the mountains of Axarquía, 20% Pedro Ximénez from the highest areas of Los Montes de Málaga and 20% Doradilla, from the highlands of Molina. A wine with delicate citrus notes of grapefruit and orange peel, and hints of rose petals with beautiful aromas of Mediterranean infusions. 
Still haven't got your Secuencial?