The Axarquia in Malaga (Spain), is a privileged territory. An area with Mediterranean climate and landscape, where the air and the aromas coming from the sea, together with the soil and the altitude, mark the character of our wines.
And our white wine Secuencial is an example and paradigm of this. The Mediterranean bottled in a wine created following the philosophy of minimal intervention with which we work, a representation of the rugged terroirs where the three varieties that give it shape and body grow: Muscatel of Alexandria from the Axarquia area, Pedro Ximenez from the highest slopes of the mountains of Malaga and Doradilla from the highlands of Mollina, at altitudes ranging from 300 meters to 1,000 meters and with vineyards of average ages ranging from 25 to 70 years.
We start our work in a meticulous process of care of the vines, monitoring and controlling possible pests, following a sustainable viticulture and great care for the environment. We harvest from the beginning of August in the case of Moscatel and culminates at the end of August in varieties such as Doradilla and Pedro Ximenez.
After the harvest, which is of course done by hand or with the help of our indispensable mules, we transport the grapes to our winery in Almáchar, where after receiving the grapes, we carry out a light pressing and destemming, although the Doradilla spends 24 hours with its own skins before pressing.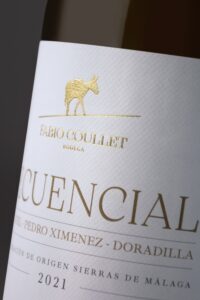 After that, the varieties are vinified separately in stainless steel tanks, where they ferment after a period of approximately fifteen days at low temperature to keep all the aromas, and it is after the end of fermentation when we make the Coupage with approximately 60% of Moscatel, 20% of Doradilla and another 20% of Pedro Ximenez, then it will remain with its lees at least 6 months in stainless steel tanks, after that time it is bottled.
The result is a very aromatic wine, with notes that can remind of grapefruit or orange peel, with all the aromas of the Mediterranean, some thyme or lavender, fennel and even floral hints of dried rose. In the mouth it is voluminous, but fresh, with a good level of acidity which makes it exquisite and highlights even more those grapefruit nuances.
A perfect wine to pair with white meats, seafood paellas or black rice, any tuna or fish dish.